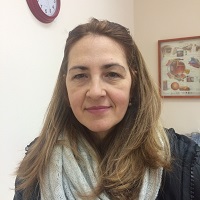 Aleksandra Beniš, 1976, Vienna (Austria)
I had poor eyesight almost all my life. I used both lenses and glasses, but my eyesight deteriorated every 6 months. In addition to numerous expenses for glasses, contact lenses, examinations, sunglasses, etc, I have never been able to play sports or enjoy the smooth driving. I got a recommendation for Perfect Vision, and they informed me that there is an operation, after which I would never have to wear glasses again. Three days have passed since the surgery with the implantation of multifocal lenses, and I still cannot believe that I finally see well! In less than 24 hours after the surgery, I was able to watch TV and send SMS! With one operation, I solved a medical and aesthetic problem and a handicap that I had all my life.
---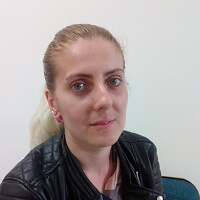 Ana Mitrović, 1989, Myggenäs (Sweden)
My fiancé urged me to undergo a laser vision correction. I was reading about the clinics in which they perform this procedure, but the decision fell to "Perfect Vision", because I got the first-hand information from a friend who works there. I went there to do the examination and Dr Ivošević noticed something unbelievable – I've had a wrong eyeglass prescription for 20 years! When I was 8 years old I got negative prescription glasses, which I got accustomed to after a while, but I actually needed positive prescription glasses. The procedure is really painless, and it takes less than 5 minutes for it. The doctor was talking with me during the whole procedure, and it really meant a lot to me. The recovery went well and after two days I saw 100% clear. I would honestly advise everyone not to have second thoughts about this and not to let fear stop them from undergoing this intervention.
---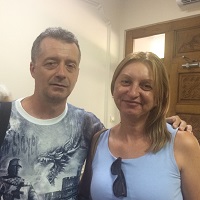 Zorica Nikolić, 1970, Norway
After 34 years of wearing lenses and 8 years of wearing glasses, now I finally have perfect eyesight. I decided to undergo the surgery because I wanted to improve my eyesight and not to use lenses daily. My goal was implantation of trifocal toric lenses that are the most up-to-date platform and are being used since the middle of 2016. I'm happy because I was a candidate for them. The decision was not easy, and hearing the experience of my predecessors, who were highly satisfied, meant a lot to me. The operation is based on putting the trust in Dr Branka Ivošević and her team, who are fantastic. In addition to the expertise of the staff, I would emphasize that the clinic is equipped with the latest apparatus. After having trifocal toric lenses implanted, I can see splendid and clear, and I have crystal clear near, middle and distance focus. Thanks to this technology, I am especially glad that in the north of Vojvodina there is a clinic with Dr Branka Ivošević, who is fantastic and has the right to bear the title of "a magician with a scalpel". The summary of the story is that whoever had "eyesight challenges" during life, will understand the message which I want to send. I am grateful to God that something like this exists.
---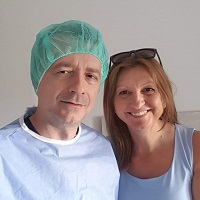 Goran Nikolić, 1969, Norway
Ever since I can remember, I wore glasses, and in the last 34 years contact lenses. My diopters were -6.0 and -7.0. Lately, my eyes started rejecting the lenses and it was unbearable to wear them. While watching a video clip on YouTube about the operation that could solve this problem, we found the Eye Centre Perfect Vision. In May, my wife and I did the first medical examination, and in July we both underwent the surgery after which we didn't have the need to wear glasses. I give my compliments to the doctor and her staff, because they are all excellent. The operation went great – it was not painful, but there were some unpleasant moments, which were always announced in advance by the doctor, so we could prepare for them. I had monofocal lenses implanted, which means that I still need to wear reading glasses, and I don't mind that. The most important thing is that now my distance vision is great so I can drive and I am particularly pleased that I can continue playing billiards. I still cannot get used to it, and I keep looking around and admiring everything I see.
---
Irena and Ivana Ilić, 1987, Sweden
We would like to give our compliments to the professional staff at the Eye Centre Perfect Vision and to thank them for a very friendly reception. The clinic is modern and clean. We are very satisfied with the whole procedure of laser vision correction and we will be happy to recommend this clinic to our friends and acquaintances.
---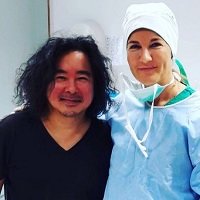 Roddy Bogawa, born in 1962, New York City (New York)
As I sit down to write these words of praise at my laptop, it has been nearly a month since I had lens replacement surgery done by Branka Ivosevic at Perfect Vision in Subotica and I can see both the computer screen and the people outside the window walking along the Danube in nearly crystal clear vision. I am a film director based in New York so as you can imagine, having eye surgery may have been quite frightening but Dr. Ivosevic as well as everyone who works with her not only made me feel at ease with the procedure, but also informed of the entire process all along the way. Almost immediately after the operation, once the blurriness that of course is natural after this operation started dissipating, I noticed right away I could see distant objects clearly (I was nearsighted with a slight astigmatism in one eye) and there was absolutely no pain or discomfort. Each and every day, my vision is gaining strength and it is an amazing experience to no longer have to use glasses and contact lenses daily. I know I will end up becoming one of the people who have had this procedure exclaiming that it "changed my life" and I thank Dr. Ivosevic and everyone who works with her for such a comfortable and relaxed experience and for the gift of Perfect Vision.
---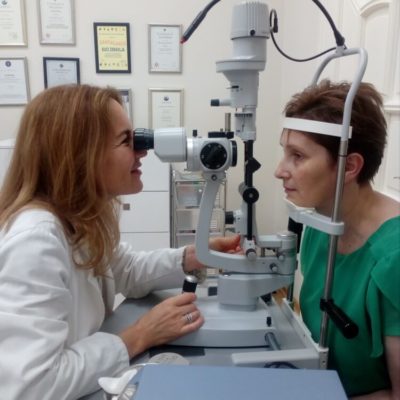 Erika Bokor, 1973, Sovata (Romania)
For 42 years I could not imagine a day without glasses. I visited several clinics in Hungary and Romania, searching for an operation that could improve my eyesight, but due to macular degeneration, nobody wanted to perform the surgery on me. Upon a recommendation I contacted the clinic Perfect Vision, and finally got the hope that I can solve my problem there. We were in contact for four months, and you have patiently and thoroughly answered all my questions. You filled me with such confidence and hope, and that is why I decided to go over 600km and get to you. I could not imagine that your clinic is so nice – the premises are beautiful, the staff are smiling and they are all willing to help,… Thanks to excellent organization, it was all over in 3 days. The operation is quick and painless, and immediately after it – my eyesight was better. This operation opened up a new world to me! A million thanks to Dr Branka and her team!
---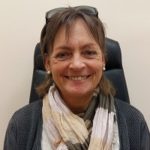 Kristensen Lone Ulrik, Sæby (Denmark)
My sister and I came from Denmark to Subotica to undergo the implantation of multifocal lenses. A friend from Denmark, who underwent the surgery here, recommended it. For us, it was cheaper than doing the surgery in Denmark, and I am sure that the service quality there wouldn't be as good as it was here. Everyone was so friendly and willing to help. On the first day, when we came to do the medical check-up, we were hungry, and they provided us with breakfast and made us some coffee. The surgery is quick and painless. I can already read without glasses, which is great! I have no complaints; it was a really good decision!
---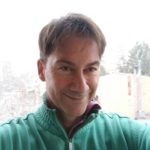 Zoran Jošić, born in 1966, Spain
I wore multifocal glasses for near and far, and I decided to undergo the implantation of multifocal lenses. Being a doctor, I was well-informed about this surgery. The fact that you have the highest number of multifocal lenses implantations in the country, and also the best price and quality ratio, have been enough for me to come from Spain to Subotica. I had full confidence in the staff, due to excellent results in practice and only a small number of complications. The surgery went well, without any pain, interference or discomfort. It's only been three days since the surgery, and I am able to read even the smallest letters without glasses. My experience is that you are really perfect, just like it says in the name of your clinic. I want to point out the kindness and professionalism of the staff, and especially the humanity and warmth they have towards their patients. I am a very satisfied patient, and I will share my experience with others.
---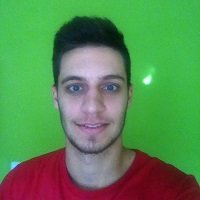 Šimatić Dominik, born in 1994, Osijek (Croatia)
I had a laser eye surgery two weeks ago and I can see perfectly clear now. I am really satisfied with everything in Perfect Vision starting with Dr. Branka Ivošević and really great staff that creates a relaxing and home-like atmosphere so I did not feel like I was in a "hospital" for a single moment. I still cannot believe that in the morning when I wake up I can see everything crystal clear, without having to put my glasses or lenses on immediately. I thank Dr. Branka and the whole team very much for making it possible for me me to throw away my glasses and lenses.
---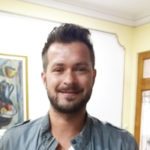 Filip Medić, born in 1986, Miami Beach (Florida)
From the first moment I contacted the clinic, they were highly professional and they informed me about every detail. They are very flexible with dates and medical check-ups. Vision correction was quick and painless – it lasted for about 10 minutes. Now I am a different person. It feels so good that I don't have to wear glasses or contacts. I would like to thank Dr Branka and the entire staff for their great professionalism. I recommend them highly to all potential clients.
---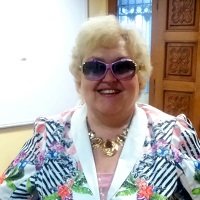 Kamba Eržebet, born in 1943, Frankfurt (Germany)
I am more than satisfied! The cataract surgery was yesterday and I can already see well now. Everything, everything, everything is great! I have nothing but praise for the whole team, they are kind, quick, you do not wait for a long time… I will recommend your clinic to everyone, and from now on I will come to you only.
---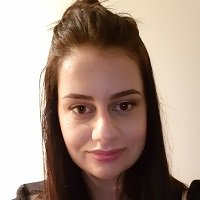 Amy Barcock, born in 1995, Perth (Australia)
I am from Australia and visited this clinic during my stay in Serbia. Dr Branka Ivošević performed corrected laser surgery on my eyes in the most reassuring and professional manner. At the most affordable price (a fifth of the cost for the same procedure in Australia) I will be recommending her clinic to anyone who needs similar treatment. The doctor's post operative care was above and beyond what I expected and I am forever grateful for the treatment i received for her and her staff. Thank you Kuća Zdravlja!
---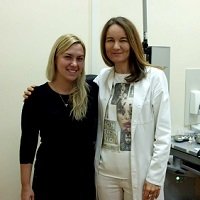 Kolar Ana, born in 1986, Ljubljana (Slovenia)
I have been wear glasses since I was 12 and my diopter was -3.5 at first but eventually it reached -9.5 and -8.5. I decided to have a laser eye surgery because, whatever expensive it seemed, this operation costs far less than the price of glasses and lenses I have used for years. My whole family works at the hospital, so we have been doing a lot of research on the Internet, looking for the right doctor. We liked Dr. Ivošević from Subotica most of all, because she seemed to be the most dedicated to her job. First, my dad visited the clinic and he was delighted, so we easily made a decision. The operation was 4 weeks ago and my visual acuity is 100%! It's a wonderful feeling when I get up in the morning and I immediately see what time it is. Now I constantly read license plates in the distance and I'm delighted when I can clearly see small things like stones on the road. Everything was just as I had expected! They are all nice and what I like the most is the fact that the patient is not just a job to them, but they treat everyone as their closest family!
---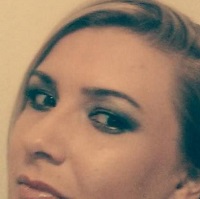 Dragana Didović, born in 1986, Salzburg (Austria)
Just a day after the laser vision correction, I was able to see 100% clear. During and after the surgery I didn't feel any pain and the light didn't bother me… A few days later I went back to my regular activities. I am very satisfied! Many thanks to the young and friendly staff and especially to Dr Ivošević.
---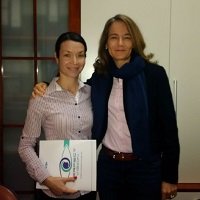 Milena Djorić Stojiljković, born in 1983, Leskovac (Serbia)
I'm not only satisfied, I'm more than satisfied! It's been 6 days since laser eye surgery and I see 100%! I wanted to have this operation, because I have been struggling with contact lenses for a long time, I did not see either with them or without them. Before the operation, I was very scared, I thought it would hurt very much, but everything went quickly and perfectly fine. The doctor is great, as well as her entire team. All praise to them!
---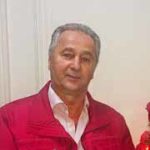 Spasojević Slaviša – 1955, Bijeljina (Bosnia and Herzegovina)
A friend recommended me to go to the clinic Perfect Vision. I've had vision problems for years, and glasses were bothering me at work. I had an initial cataract in both eyes, and I decided to have a surgery with implantation of multifocal lenses. I am very satisfied because now I can see fantastically without glasses! Those who have the same problem should do vision correction. Solving all the problems with two surgeries that last for 10-15 minutes and which are absolutely painless, without any problem – is a gift from God!
---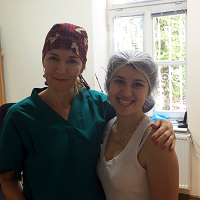 Lacmanović Danijela, born in 1989, Podgorica (Montenegro)
A month ago, I had a laser eye surgery using the PRK method and I am more than satisfied with the result. It's a wonderful feeling when you can finally see everything crystal clear and clean with your own eyes without any optical aids. After reading the patients' experiences, I knew that the operation was painless, but that there were a couple of unpleasant moments, and I was expecting them at any moment, however, there weren't any in my case, nothing was particularly unpleasant for me to single it out. They say that the postoperative period after the PRK method is more painful and longer, but it was short in my case. After the fifth day at the examination, when they removed the protective lens I could see 100% with both eyes. I have to thank and praise everyone in the Perfect Vision team and Doctor Ivošević, they are all really professional, kind and wonderful, thank you very much! My wholehearted recommendations to everyone, I am truly more than pleased and happy!
---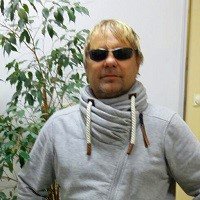 Mirko Schonherr, born in 1968, Germany
I am satisfied with the service and the clinic. I recommend it to everyone because Dr Ivošević and the clinic are at a very high level. Everything is great – we felt LIKE KINGS! Everyone is pleasant and I will tell everyone in Germany about you.
---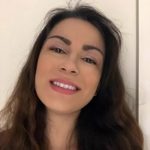 Emanuela Kevra – 1988, Pula (Croatia)
Thank you, Dr Branka and the entire professional team, for giving me the opportunity to see perfectly without glasses. It feels like I am in a "different world" now. I cannot describe how happy I am and how you made my life easier.
---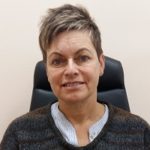 Marian Eilersen, 1961, Sæby (Denmark)
I decided to undergo the implantation of multifocal lenses because I no longer wanted to wear glasses for near and far. A friend from Denmark, who underwent the surgery here, was absolutely satisfied with everything, so I decided to come here. I am very satisfied with the treatment, they are all very good and kind, the clinic is clean and tidy, with very modern technology. I feel great. Now I am again able to read and to see far. The surgery was not painful; everything was done perfectly and very professionally.
---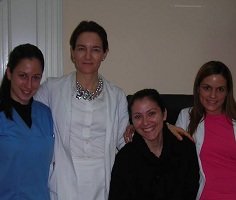 Dragana Čurović, born in 1987, Kula (Serbia)
My diopter was -4.0 and I could not imagine a single day without glasses, I took them off only when I was sleeping. I wanted to have laser diopter removal, but I was thinking for a long time about which clinic to go to, because I am a medical stuff myself. I have chosen Perfect Vision and I do not regret it! Everyone is fantastic, kind, wonderful – without a single objection! Before the surgery, I could not see anything, and when I got up from the table 10 minutes later, I saw what time it was, I could even see the second clock hand. My life is wonderful now, because I don't think about the glasses anymore. Although this intervention is expensive for many, I can freely say that I have saved up this way. I have no words words to express the gratitude I feel to the doctor and the whole team, they have surpassed all my expectations and I will recommend them always and to everyone, because they are truly phenomenal.
---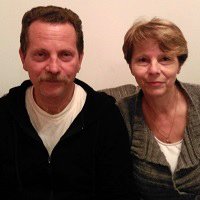 Janez and Marjeta Bukovec, born in 1956 and 1963, Ljubljana (Slovenia)
Ever since I can remember, I hated wearing glasses, but since I was shortsighted I had to start wearing glasses because I could not read anything or work without glasses. Neither was my husband inclined to wear glasses, so we started looking for a solution to get rid of wearing glasses. We were searching the internet a lot, the forums and so we found a lot of articles praising a very good doctor from Subotica. Now more than half a year has passed since Dr. Ivošević operated on us – the implantation of multifocal lenses. Although I was afraid of the operation, I must admit that everything went very quickly and painlessly. Dr Ivošević and all of her associates were very kind and professional. We did not regret for a single day that we had our eyes operated on, that we got rid of the glasses. Once again we have to thank Dr Ivošević and her dear team. Greetings from Slovenia!
---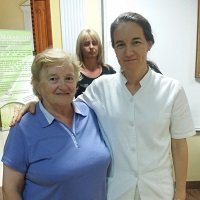 Simeunović Milka, born in 1947, Belgrade (Serbia)
When I decided that I wanted to have a cataract surgery, we looked for an appropriate clinic where I would have the surgery done. My son found information on "Perfect Vision" on the Internet, we watched the videos and we immediately liked Dr. Branka, she looked like someone we could trust. Soon afterwards, we got a recommendation from a doctor from Belgrade who said there is a fantastic doctor working in Subotica. And it turned out that this was Dr. Branka herself! I can say most sincerely that I am very satisfied after the operation! Especially with the doctor, she is a very nice woman, attentive, professional… All her associates are wonderful, I do not know who to point out. For all I have only words of praise, not a single complaint.
---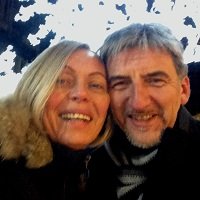 Admin and Dijana Čavka, born in 1965, Sæby (Denmark)
One of the best decisions that my husband and I have made is to be free of wearing glasses and contact lenses, after more than 30 years. After the examination, multifocal lenses were proposed to us as a permanent solution. The examination, preparation, operation and postoperative examinations – everything was professional and painless. From the first moment we felt comfortable and in good hands. "Perfect Vision" was our choice of the three clinics we visited, two of them are from Denmark. We did not regret it, it was worth going all the way and letting ourselves into safe hands. In their clinic the patient is welcomed as a friend of the house and the door is always open to them for a visit or conversation. We warmly recommend that you leave all your eye problems to "Perfect Vision" because the results is a new and better life.
---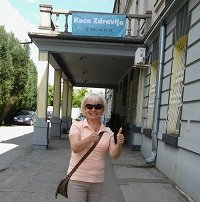 Ivanušec Marija, born in 1961, Bjelovar (Croatia)
The moment when you get your eyesight back after a long time and look at the world around you not through your glasses but with your own eyes – priceless… Many thanks to all the employees of this clinic… You were kind, full of understanding and professional… I recommend you to all those who have any problems with their eyes… Warm greetings from Bjelovar!
---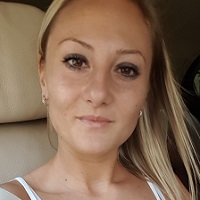 Jovana Stefanović, born in 1994, Vienna (Austria)
My best man told me about a fantastic clinic in Subotica, with the best doctors and nurses, because he was amazed by their technology, the effort and the knowledge of the staff and especially by their prices. I contacted them regarding laser vision correction, asked many questions and got an answer on every one of them, just as I had imagined it. I saw the prices for surgeries and medical check-ups on the website, and I'm convinced that no one can compete with them. I am sure that there is no other place where you can get this quality and such wonderful staff for so little money. They even provided accommodation, free of charge, for me and my husband, which was an amazing gesture. The surgery was performed under eye drops anesthesia and it didn't hurt at all. Right after the surgery I stood up and the doctor asked me to tell her the time, and I was able to see everything! I feel my sight is improving every day and I cannot believe that when I get up at night I don't hit the bed or door or that I can go around without tripping… My diopter is 0.00 now and I still cannot describe how good it feels! I particularly want to point out the relationship of the staff with the patients – for the first time in my life I didn't feel like a number for a doctor who was just doing the job; they really took good care of me. It felt that it was very important to Dr Ivošević to give me my sight back. This is the best clinic with the best staff and the highest quality.
---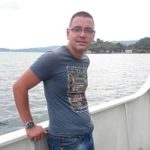 Đukanović Vlado, born in 1995, Podgorica (Montenegro)
Thank you for everything! After 18 years, I finally saw the light – thanks to you. I will keep recommending you, because you are the best and I am sure that you will change the lives of other people, too. The professional staff and the superb team of doctors led by Dr Branka Ivošević, make the stay at the clinic pleasant and the postoperative recovery easier. You are very kind and attentive to patients.
---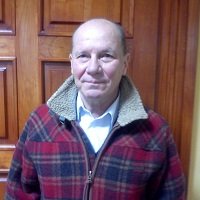 Dragoslav Jakonić, born in 1952, Novi Sad (Serbia)
There is no measure to describe my satisfaction! I am a doctor and I teach at the Faculty of Sport and Physical Education, and my job profile is such that it requires a good eyesight. Before surgery, I wore glasses for both distance and near vision. Taking care of glasses and wearing them every day created big problems for me. I came to this clinic after the recommendation of a satisfied patient and not for a single moment did I regret it. It's been 7 days since my operation and I am feeling very comfortable. One day after the surgery I could see 100%! I am really satisfied, everything passed just as we had agreed – quickly, efficiently, painlessly and professionally. I would like to give praise to everyone: from reception at the counter and very kind nurses, to the expertise of Dr Ivošević.
---